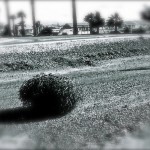 Through the tumbleweed blowing around this desolate outpost of the blogosphere, I wave belated greetings to you, dear reader. Those of you paying any sort of attention will be aware that I haven't blogged at all in the second half of this year. This is mainly because I became unwell in early September with a mysterious infective illness and I have been struggling ever since with pain and what appear to be post-viral fatigue symptoms. It has been really difficult to find the requisite energy just to do my paid institutional work without having much mojo left for my own writing projects. I hope I am finally on the mend now and will be in a position to post more frequently in the new year. I'd like to thank all those who continue to promote and recommend this blog and my other writings on Twitter and elsewhere, despite the recent leanness of offerings. I note the term "sex critical" cropping up in a lot of discussions these days and it is ever so encouraging!
As I have so little inspiration of my own to offer at the moment, I want to share with you in this end-of-year post 10 blogular nuggets of wisdom and wonder from 2013, on broadly sex critical themes, that have inspired me. They appear in no particular order.
1) Erotic novelist Jenny Trout has undertaken a careful and brilliant chapter-by-chapter, feminist- and kink-aware take-down of the dreaded Fifty Shades of Grey trilogy. Jenny suffers through it so you don't have to. As well as the lovely writing and insightful analysis, the blogger conveys a visceral sense of the emotional difficulty of reading a text as politically problematical as this one in such close detail. The whole gargantuan undertaking can be read here: http://jennytrout.wordpress.com/jenny-reads-50-shades-of-grey/
2) Everyone's favourite alternative relationship writer Meg Barker has produced a plethora of pithy pearls this year over at Rewriting the Rules. This piece on gender in the workplace stood out for me owing to its breathtaking clarity. The post provides the full transcript of an interview Meg did with a journalist for an article in The Telegraph. It offers a model of how critical thinkers can deal with over-simplistic, "either/or" questions without accepting the false dichotomy implied within them. http://rewritingtherules.wordpress.com/2013/10/16/gender-in-the-workplace/
3) A big part of a sex critical project, for me, involves extending critique to the institutions that have a vested interest in shoring up the status quo of sex and gender, whether it be the church, medicine, the psy sciences, or – perhaps most controversially, it seems – legislation surrounding marriage and the family. 2013 has seen progress in both the USA and the UK towards the rights of same-sex couples to marry – that is, to join an institution that gives tax breaks to the obediently coupled, that protects private property ownership and familial inheritance thereby stymieing the social redistribution of wealth; an institution that historically was the cornerstone of the ownership of women and children by men. That history matters, and that there are certain pies so rotten that we might want to throw them away altogether rather than extend the right to have a piece, are, to my mind, too often overlooked. Many writers in queer studies have discussed in blog posts and newspaper columns this year similar problems to the ones I have briefly raised above (often to indignant protestations from pro-Kinder and Küche, if not always Kirche, LGB groups and individuals). Queer analyses of marriage rights discuss the classism, racism, and othering of non-monogamous, non-coupled queers that are risked by promoting this agenda as true liberation or equality.  My favourite pieces on this topic have been written by fellow Foucault scholar, Lynne Huffer, who works in the US. Here is Lynne's brilliant piece from the HuffPo blog on "The New Normal": http://www.huffingtonpost.com/lynne-huffer/the-new-normal-not-good-enough_b_1895309.html
4) As a fan of Suzanne Collins's The Hunger Games  (the books; not the Hollywood adaptations), I liked Hannah McCann's dissection of the overlap between the fictional Dystopia created by Collins and our own interaction with reality TV and social networking over at BinaryThis. This question in particular may ring bells with all conscientious cultural critics: "if we had our very own Hunger Games […] would I spend my time analysing it in terms of the death drive, or the way in which it rendered boys and girls as equals within a killing field? Would I approach it without revolt, without action to break those kids out of that crazy systematic torture?" Well, quite… http://binarythis.com/2013/11/20/revolutionary-eggs-and-the-pop-cult-basket/
5) Still on the subject of pop culture, I very much enjoyed watching the TV comedy-drama series Orange is the New Black this year. As a long-time Prisoner Cell Block H and Bad Girls enthusiast, I found that the themes of female solidarity and desire, systemic abuse and female resistance, endemic to the women-in-prison genre, were being explored again in this series. However, Kimberly Bernita Ross's post over at Racialicious also made a huge impact on me with its meticulous dissection of the problems inherent in the representation of race in the series. The fact that the show was marketed as the story of a middle-class white girl who, owing to "bad choices" in her past, encounters a world which is utterly alien to her, is a familiar ploy for selling the stories of non-white characters to Hollywood, the author argues. But this does not justify the fact that the crimes of the women of color represented "are ultimately attributed to a cyclical culture of poverty and behavioral deviance rather than a system that strangles options and restricts upward mobility". The post is compellingly argued and made me re-view the series, and the genres from which it borrows, much more critically. http://www.racialicious.com/2013/11/26/why-orange-is-not-the-new-black/

6) I'm a big fan of Kitty Stryker's "Consent Culture" project and the blog attached to it, and I was delighted to be able to invite her to a 2-day workshop I organized at Birmingham on Consent this year. (Kitty reflects on her participation here and here.)  But it's Kitty's July post on sex education in Britain, noting what is taught, and why what is not taught is just as – if not more – important and telling, that has really stayed with me. The author argues that if a consent culture is to be realised, then those who devise school sex education curricula urgently need to include in them domestic violence and sexual abuse understood in the broader context of rape culture. (I would add that asexuality, bisexuality, and non-monogamous relationships are other obvious lacunae that need to be included in a non-judgmental, critically aware fashion. I would certainly have found such a syllabus more edifying than the heteronormative, repronormative, anti-choice, Papist propaganda that passed for sex education at my North-of-England RC high school in the 1980s.) http://www.consentculture.com/2013/07/08/guest-post-sex-education-not-just-what-you-teach-but-what-you-dont/
7) This is one of the most honest discussions of (gender, sex, race, economic class, able-bodied) privilege, and what it means to have lots of it, by a remarkably self-aware, self-confessed "privileged person", that I've ever encountered. Thanks, Paul Bernal. More of this sort of thing in the new year, please! http://paulbernal.wordpress.com/2013/11/28/a-few-words-on-privilege/
8) Cliff Pervocracy's eponymous blog has some excellent critiques of the ways sex and gender are portrayed in mainstream culture. His "Cosmocking" series (mocking Cosmopolitan magazine) is particularly noteworthy. But it's a post on the multiple meanings of BDSM that I particularly enjoyed this year. While Cliff is an active BDSM-er, this piece, like most of his writing, manages to avoid being dogmatic or partisan. It makes great points about how the explanatory/ ideological frameworks people bring to bear on BDSM shape what they understand by it, such that it is possible for two people, both arguing in good faith, to talk past each other entirely. (I have seen this happen many times.) Also the notion that context has a defining importance, and that the same practice can mean different things depending on how and why it is done, should be so obvious as to go without saying — but it seems it really isn't. Which is why I'm glad Cliff said it here: http://pervocracy.blogspot.co.uk/2013/06/the-meanings-of-bdsm.html
9) An issue I struggle with a lot in writing and academia is the question of the usefulness of self-disclosure. In sexuality studies in particular, there is a tendency to begin papers with a litany of labels describing one's identifications, orientations, and positions and to use anecdotes about one's own experience as supporting evidence for a broader argument. I understand that speaking about communities and identities to which one does not belong is ethically fraught, and that the "I" portion of the paper is often a plea for legitimacy, for recognition of the right to be doing the work one is doing, in a hyper-critical (not always in the most productive sense of the word) environment. I also recognize the important historical legacy of the idea that articulating lived experience leads to empowerment, located as it is in the second-wave feminist activist tool of consciousness-raising, which insisted that the personal was also – and ultimately – the political. However, I am uneasy, as someone broadly sympathetic to Foucault's critique of the power of confessional discourse, about the ways in which some acts of self-disclosure shore up ideas of identity as fixed, authoritative, and the locus of truth. I'm interested, then, in finding the most creative, efficacious and challenging ways of using personal self-disclosure in academic and other types of writing. Because of my ongoing ambivalence around this question, I learned a lot from Nadine Muller's moving post on the political risks and usefulness of writing about the personal – not, in this case, concerning sexuality, but rather mental illness and money problems. http://www.nadinemuller.org.uk/musings/silences-and-selfishness/
10) Finally – just for fun – I love these Foucault "Hey Boy" and "Hey Girl" Tumblrs that have appeared over the past year or so… http://blogs.cardiff.ac.uk/rsrc/2013/12/11/fun-with-foucault/
Wishing you a perfectly critical Christmas – or any other festival you celebrate/ tolerate for the sake of your family or friends/ shun in curmudgeonly fashion (delete as appropriate) at this time of year.